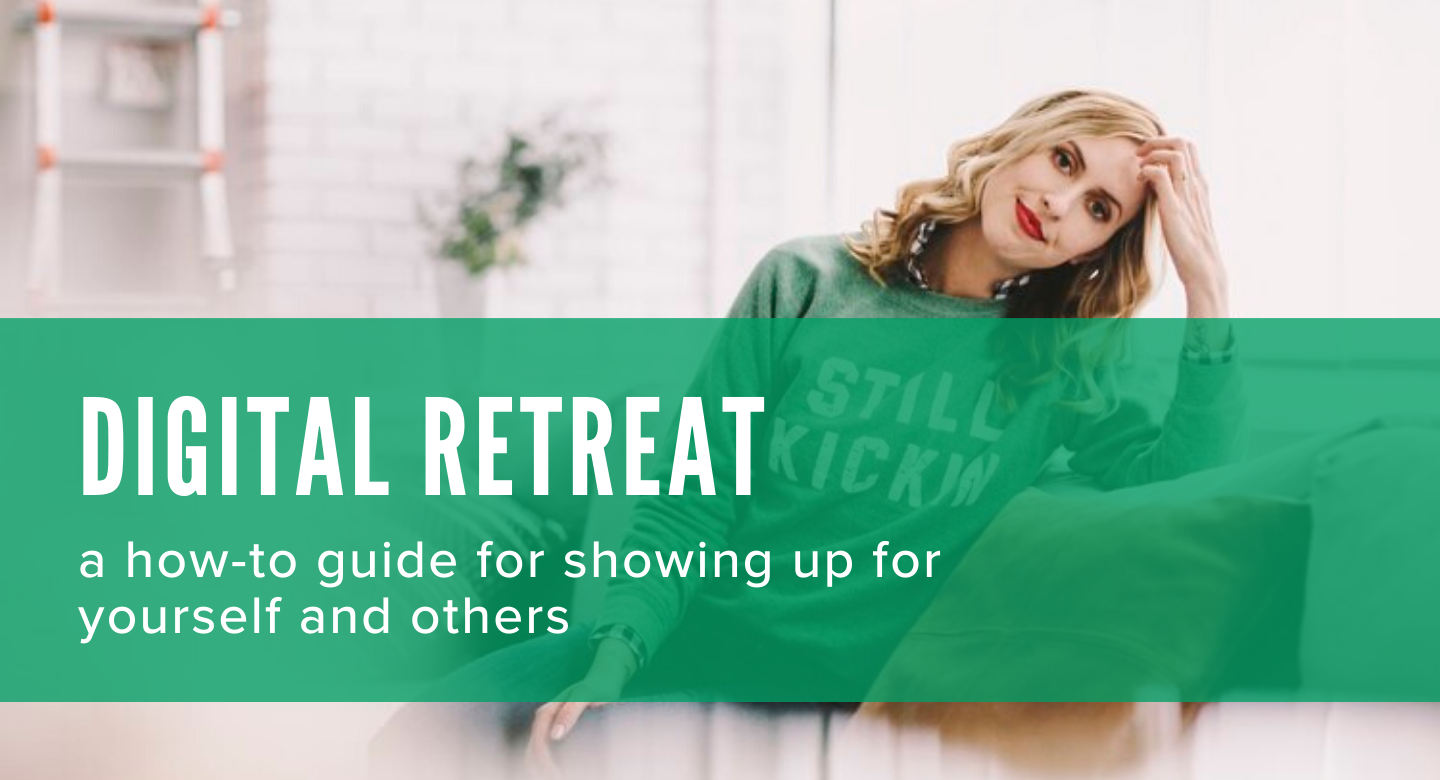 It's not exactly easy to show up for others right now — at least not in the literal sense. And it's not all that easy to show up for ourselves, either. We're isolating and social distancing and quarantining and the kids are stuck in the house and maybe you've lost some or all of your income and it's all just a LOT.
Even during the best of times (read: not-quarantined times), we live in a world that has taught us to put our kids or partners or friends or colleagues or strangers before ourselves... and also to put our own busy lives before pretty much everything and everyone else. It's a vicious cycle of selfish vs. selfless. And it's too much.

The Still Kickin team spent a weekend in northern Minnesota with dozens of good humans last fall learning how to make all of this "showing up" stuff feel more manageable. If you didn't attend in person but, you know, find yourself with some free time lately (can't imagine why)... spend some time with us. This self-paced e-course is led by 10 different instructors and presented by Still Kickin co-founder Nora McInerny.
This e-course will:
Help you define and identify ways to prioritize showing up within your life.
Help you identify personal barriers and choices that diminish prioritizing your own needs.
Help you integrate new activities and reflections into your life to rejuvenate and center yourself.
Help you create a plan for prioritizing your needs so you can show up where and when it matters most.
Course Curriculum
Welcome!
Available in days
days after you enroll
How We Show Up
Available in days
days after you enroll
Barriers To Showing Up
Available in days
days after you enroll
Frequently Asked Questions
When does the course start and finish?
You can start the course as soon as you enroll! And we'll be keeping enrollment open for as long as we feel people need it. This e-course is self-paced, which means after you sign up, you have access to the materials forever. Work through the materials at your convenience.
Can I get a refund if I decide the course isn't for me?
We of course (pun intended) hope the course is helpful, and we've laid out the course curriculum ahead of time so students know what to expect when they enroll. We will not be giving out refunds after a student enrolls in the course.
Why does this e-course cost less money than your other e-courses?
We wanted to provide a course offering that's as accessible and affordable as possible to help folks get through these uncertain times. With all of the social distancing and isolation and quarantines happening right now, emotional support is so needed! This course took many weeks and dozens of people to create, and we're proud to temporarily offer it for just $25. Payment plan also available!
If I previously took your "Showing Up" e-course, should I sign up for this one too?
Probably not! The curriculum is essentially the same as our "Showing Up" e-course (which we released last fall after our retreat in northern Minnesota). We've tweaked a few things and lowered the price to make it more accessible during this stressful time, but otherwise the material is the same. So you might wanna skip this one!