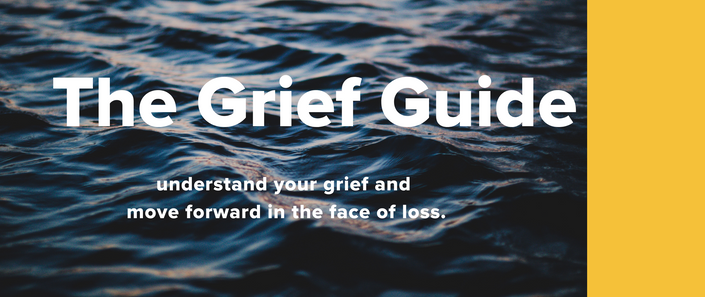 The Grief Guide
with Dr. Anna Roth and Nora McInerny
"What is wrong with me?"
"Why am I still so sad?"
"Shouldn't I be over this by now?"
There's nothing wrong with you. You just live in a culture that's terrible at grief.
Really. If you're lucky enough to have a full-time job with benefits, you'd also be considered lucky to get 3-5 days of bereavement leave.
That's not enough time to plan a funeral, let alone grieve this loss.
Our culture tells us to move on, to get over it, to look at the bright side.
But we're here to tell you to sit with it, embrace it and move forward with it.
We're Nora McInerny and Dr. Anna Roth, two grievers dedicated to making space for grief in a culture that is obsessed with moving on.
Since joining forces professionally in 2019, our self-paced e-courses, workbooks and webinars have created an accessible space for the grieving.
We know nobody wants to be here, and we don't blame you. We didn't want to be, either.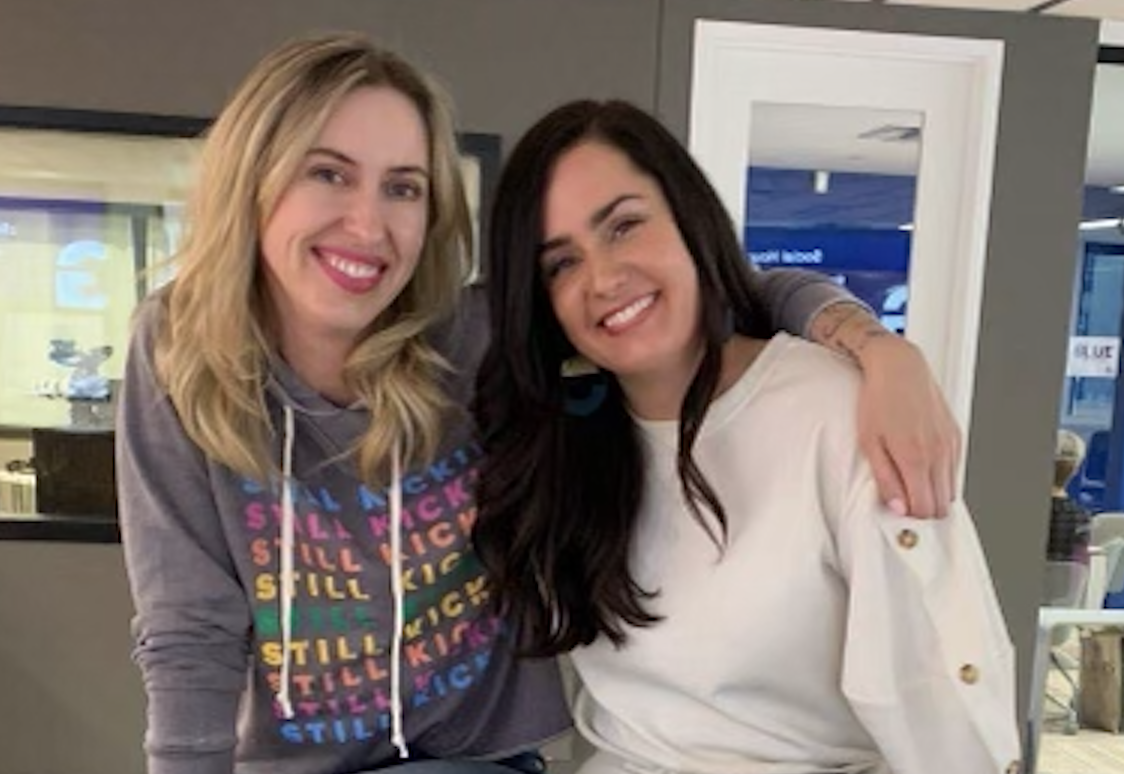 This course is closed for enrollment.
It does get better. Not just because of time passing, but because of what we do with our time.
Our tragedies and our pain need the same care and attention we give to our joys.
Nora McInerny's TED talk about grief has more than 50 million views worldwide, because grief is as universal as it is personal. Nora is a remarried widow who lost her first husband, her only father and her second pregnancy in 2014. Since then, she's advocated for the grieving in her award winning podcast, Terrible, Thanks for Asking, in op-eds for the New York Times and other publications and in her work with other widows.

Dr. Anna Roth is a licensed holistic psychologist who has lived with profound loss most of her life. She brings immense personal and professional experience, compassion and empathy to every room she enters (even a digital one). The two of us have dedicated our lives to bringing the difficult truth of grief out of the darkness.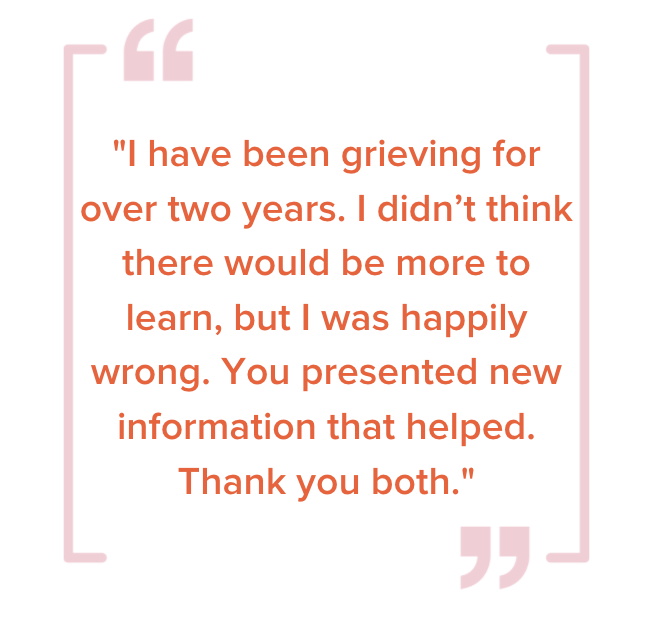 In this self-paced e-course, Nora and Dr. Anna will walk you through the essential tasks of grief, helping you build an understanding of your experience psychologically, physically and interpersonally. Grief work is work, and you'll leave this course with a better understanding of your needs and the skills you need to move forward in this new version of your life.
We won't tell you that there is a silver lining or that everything happens for a reason; we know that you didn't choose this and it isn't fair.
If you're not as sharp as you used to be, and feel like you're losing your mind.
If you're lonely and don't know how to rebuild the support system you need.
If you're consumed with rage.
If you want to live more fully in the face of loss.
Grief is chronic, but it does get better.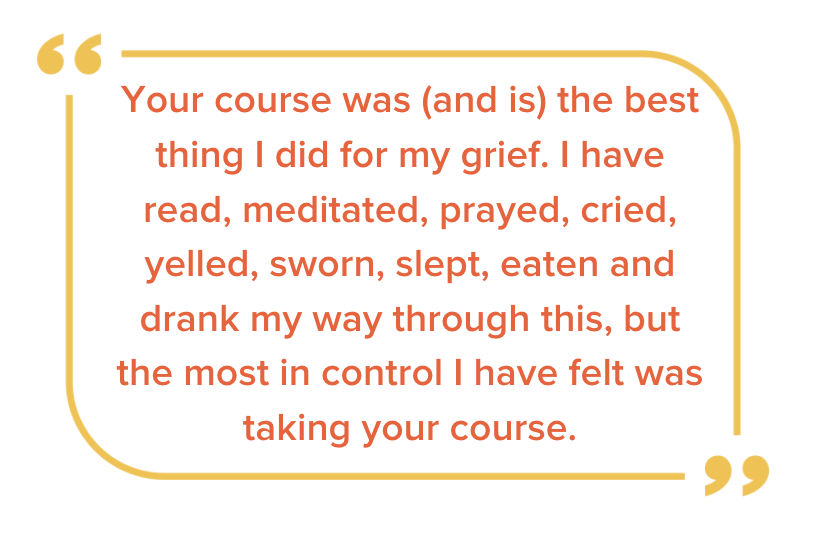 Course Curriculum
Pre-Course
Available in days
days after you enroll
Session 1: Am I Normal?
Available in days
days after you enroll
Session 2: Grief Brain
Available in days
days after you enroll
Frequently Asked Questions
When does the course start? How long does it last?
This course starts Novembeer 15. It lasts as long as you want to, because once you're enrolled, the course is self-paced! Work through the materials at your convenience. Take your time. We recommend you tackle one session per week *at most* so you have time to process in between sessions (because grief is some major stuff).
Can I get a refund if I decide the course isn't for me?
We of course (pun intended) hope the course is helpful in your grief journey, and we've laid out the course curriculum ahead of time so students know what to expect when they enroll. We will not be giving out refunds after a student enrolls in the course.
Who is this course for?
This course was created for grievers of all types. Dr. Anna's expertise is in all different kinds of grief, so her professional approach (and the skills and tools she provides throughout the e-course) are universal. Also: Grief doesn't necessarily mean a death occurred. This course is applicable to folks dealing with ambiguous grief as well.
How do I know if now is the right time for me to take this course?
We ask that you do an honest assessment of where you are in your grief journey to determine if this class is most likely to be helpful or overwhelming. For most, the desire to avoid and the presence of intense pain and discomfort is to be expected. You will likely feel some hard emotions during this course, but also some good ones — hope, validation and a sense of reassurance that what you are going through is "normal." However, timing is important. If you just lost your person and are currently in a state of shock, now might not be the best time to take in the information this course will provide. If you are experiencing frequent dissociation, are actively engaging in self-harming or addictive behavior, or are experiencing suicidal ideation, then you are in need of in-person professional help ASAP, and we do not recommend taking this course at this time. If you are on the fence, take a look at the course overview with your therapist to determine if the content feels manageable for you!
If I previously took your Hot Young Widows Club E-Course for grief, should I take this one too?
Probably not! The curriculum is based off of our Hot Young Widows Club e-course but has been re-imagined, re-reconfigured, and re-recorded for grievers of all types. If you previously signed up for the Hot Young Widows Club e-course, you might wanna skip this one, since the material is similar.
This course is closed for enrollment.