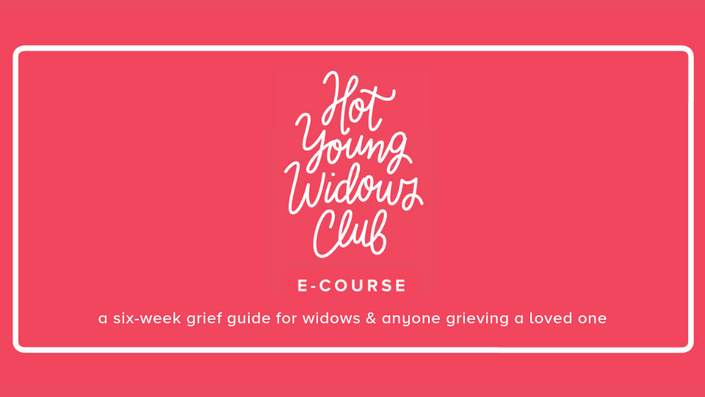 The Hot Young Widows Club E-Course
a six-week grief guide for widows and anyone grieving a loved one
Watch Promo
At Still Kickin, we talk about grief and tough stuff on the daily. It's kind of our thing. We even have an entire program dedicated to people who have lost their romantic partner called the Hot Young Widows Club.
But how does a person get through grief, exactly? When it seems like everyone else is getting on with their lives while you're stuck in the muck, what can you do to help yourself?
There isn't one easy answer (there never is). But we're here to work through it with you.
The Hot Young Widows Club E-Course is a six-week grief guide created by Nora McInerny and holistic Licensed Psychologist Dr. Anna Roth for widows and anyone grieving a loved one. It dives into some of the most challenging and important aspects of grief to help you understand not only what is happening to you but what you can do about it.
The course includes:
Six tailored and downloadable audio lessons that take you from "Is what I'm feeling normal?" to "How do I move forward?" while you drive, walk, eat, sit and do life.
Session handouts, custom worksheets and tailored "homework" for each weekly lesson (totally optional, not mandatory).
Community support via the e-course comment function. Engage with other students as we discuss homework, process reactions and support one another on this journey.
Downloadable guided meditations and visualizations courtesy of Dr. Anna Roth.
Don't let the title of this e-course trip you up: While originally conceived with widows in mind, the topics discussed and the tools provided apply to anyone and everyone currently aboard the grief roller coaster (which is a lot of us). You do not need to be a member of our Hot Young Widows Club in order to take this e-course. You don't need to be a widow at all! Grievers of all types can benefit.
Register today for a first-time introductory rate of $199. Seats are limited. Reserve your spot before class begins Monday, September 9th (yep, back-to-school season).
Course Curriculum
Pre-Course
Available in days
days after you enroll
Session 1: Am I Normal?
Available in days
days after you enroll
Session 2: Widow & Grief Brain
Available in days
days after you enroll
Frequently Asked Questions
When does the course start? How long does it last?
The course launches in September (yep, back-to-school season). New sessions are made available each Monday for six weeks. During this six-week period, Dr. Anna and Nora will be popping into the comment threads to offer discussion support to students. We want to make sure students are able to take the course at their own pace, so the course will remain open for an additional six weeks after sessions are complete to give folks enough time to access the material. Note that discussion support will not be available during this additional six-week period.
Can I get a refund if I decide the course isn't for me?
We of course (pun intended) hope the course is helpful in your grief journey, and we've laid out the course curriculum ahead of time so students know what to expect when they enroll. We will not be giving out refunds after a student enrolls in the course.
Can I take this course if I'm not a widow?
This course was originally created with widows in mind, and many of the anecdotes and examples throughout the audio lessons are about widowhood (because Nora herself is a widow). That said, Dr. Anna's expertise is in all different kinds of grief, so her professional approach (and the skills and tools she provides throughout the e-course) are universal to grievers of all types. So while widows can certainly benefit from this course, non-widows may find the curriculum applies to them as well! The choice is yours.
How do I know if now is the right time for me to take this course?
We ask that you do an honest assessment of where you are in your grief journey to determine if this class is most likely to be helpful or overwhelming. For most, the desire to avoid and the presence of intense pain and discomfort is to be expected. You will likely feel some hard emotions during this course, but also some good ones — hope, validation and a sense of reassurance that what you are going through is "normal." However, timing is important. If you just lost your person and are currently in a state of shock, now might not be the best time to take in the information this course will provide. If you are experiencing frequent dissociation, are actively engaging in self-harming or addictive behavior, or are experiencing suicidal ideation, then you are in need of in-person professional help ASAP, and we do not recommend taking this course at this time. If you are on the fence, take a look at the course overview with your therapist to determine if the content feels manageable for you!
This course is closed for enrollment.